Leupold Cascade Binoculars have become quite popular recently. Many people are curious to know what this is all about? If you feel the same, you're in the right place. We will tell you everything that you need to know about the Leupold Cascades Binoculars.
It will include a detailed overview of its design, the performance and how it compares with alternatives, and finally our own opinion. We will also merge a list of frequently asked questions followed by the conclusion statement. That way, you won't feel the pressure to make a detailed analysis yourself, which would be boring. 
Overview of the Cascade Series
Leupold Cascade series is a resultant of the Synergy Project. Synergy project sounds like a fusion of superpowers, and in a sense, it is. The synergy project started at the headquarters of Leupold Binoculars in Beaverton, Oregon, United States. It refers to the combined effort of more than 20 skilled professionals well versed in their field. 
It was an enormous undertaking. But the Leupold team managed to make a new design for the binocular. The team did their best regarding Optical Engineering, Design Engineering, Mechanical Engineering, Manufacturing Engineering, and Quality Assurance Testing to revive five different binoculars. 
They went after all the previous flaws and improved them one by one. You can pick one from the Leupold Cascade series without much thought. After all, these were one of the best offerings from Leupold at the time. Going into the detailed analysis, let us start with the designs.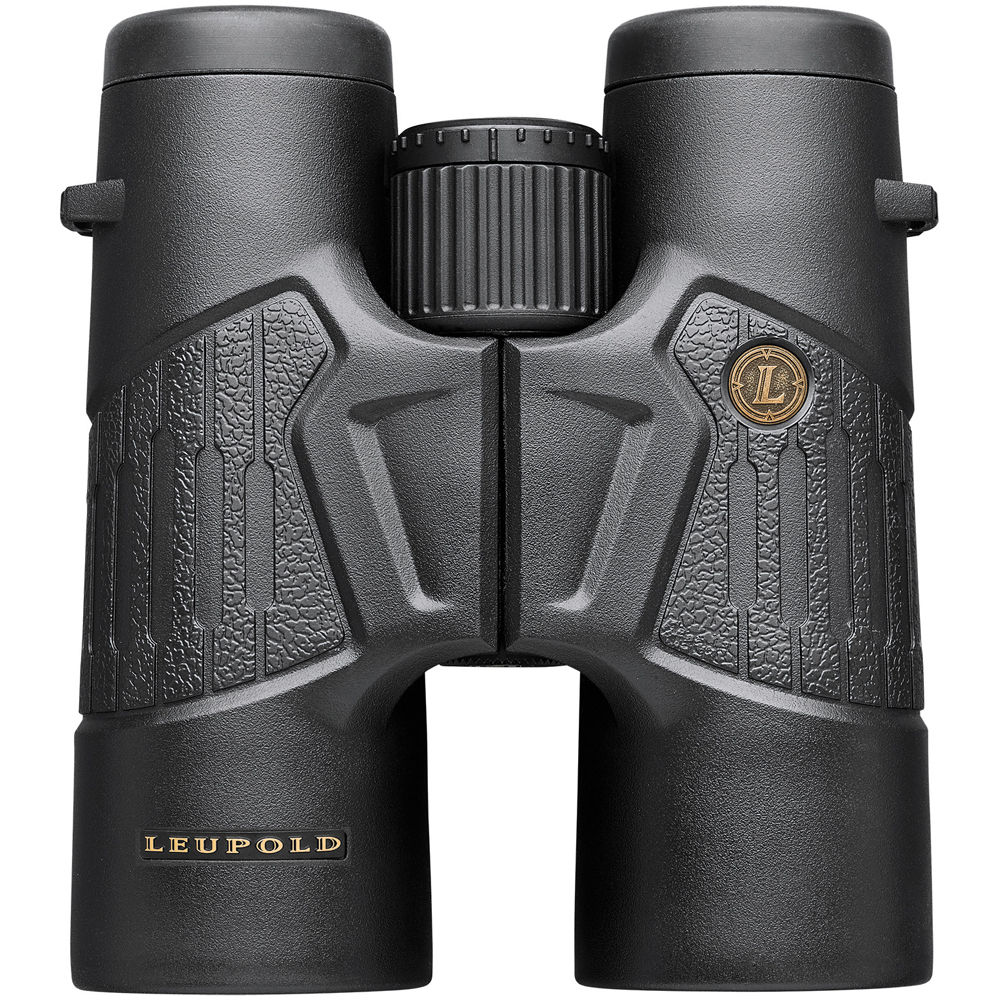 Leupold Cascade's Chassis and Body Design
BX-2 Cascades Binocular has a strongly built chassis. Magnesium, the lightest structural metal, gives the chassis its rigidity. It is 75 percent lighter than steel and possesses high durability.
It is used in automobiles and aircraft as well. So, it will last for a long time without sustaining any damage. 
The weight distribution is excellent in our test binocular. Binoculars without the evenly distributed weight will cause strains on your hands while you hold them. You can carry it around and use these BX-2 Cascades for extended periods. 
These roof prism binoculars come with a central hinge design. This design makes it easy to carry and gives you a good grip. You can add a tripod mount to it. Adapter mounts are beneficial for large magnification scales because holding the binoculars perfectly still with hands would be troublesome. 
Holding the binoculars would generally induce some blur to the images, but mounts will give you crisp and detailed images at all levels. Leading to the hinge is a tripod adapter.
You will have to unscrew the plastic plug first to access the tripod mount. It will give you access to the tripod mount where the tripod adapter will go. 
Leupold BX-2 Cascades Binocular will give you decent stability for most scenarios. If you want more, there is the option of mounting it to a tripod. 
The chassis looks sleek and elegant. Unlike Porro prism binoculars, these will not have twists and turns but only a modern, clean look. It comes with rubber armor. So dropping it will not cause any harm to the exterior. 
It also makes the bino grippy when using gloves or handling with wet hands. Its rubber armor enables these pair of binoculars to work just fine in wet conditions.
You can choose between a black finish and mossy oak packed in a lightweight, composite housing. Both variants look good with their premium housing. 
How are the Eyecups and Eye Relief?
Eyecups are the rings on the ocular that makes it easy to adjust the distance. Tuning this dial will get you a clear image. In addition, it will also protect your eyes from direct sunlight by providing shade. 
Leupold Bx-2 Cascades binocular comes with Twist-Up Eyecups. We have seen many eyecups that would not lock securely in place.
This pair of binoculars offers a great experience with the fully-up and fully-down eyecups that will lock perfectly. In addition to it, the build quality is also impressive. 
Eye relief specifies the distance between your eyes and the eyepiece of optics in which you get a clear and crisp image. In simple terms, if the eye relief is too short or too high, you will lose out on lots of edge details. 
Eye relief gets even more essential to people wearing glasses. As you might expect, this one provides you with Generous Eye Relief. Leupold BX-2 Cascades has mainly three variations, and their eye reliefs range from 16 mm to 18mm. 16 mm is acceptable. 18 mm is considered very satisfactory. 
You will not have any issues getting a wide field of view with these gripping ridges Twist-up rubber eyecups whether your use glasses or not. Leupold Bx-2 Cascades 10×42 comes with 16 mm Eye Relief whereas, 7×42 and 8x42mm Leupold BX-2 Cascades binoculars configuration come with a generous 18mm Eye reliefs.
Cascade comes with Rain Guard and Lens Cover for protection
Dusty eyepiece full of scratches will make the image look bad. Hence, the eyepieces need to remain free from dust, dirt, and accidental damages. To ensure all these, Leupold Cascade comes equipped with an industrial-grade rain guard and lens cover. 
Leupold uses a highly durable plastic composite to make rain guards for the binoculars. Binoculars are prone to frequent dropping, usually from some height. So the lens covers need to be highly durable and impact resistant. 
The lens covers included with our pair of binoculars fit all our requirements. The bridge is flexible enough to turn the lens covers but also durable. It will not break during normal usage.  
Leupold performs extensive tests on these to make sure they will last long. It also comes with push-on objective caps that fit and locks perfectly into the barrel grooves. 
The rain guard keeps the lens from getting wet, and it is also quite soft and feels like rubber. We have no complaints regarding the overall fit and build quality of the rain guard and lens cover.
Case, Neck Strap, and Accessories are included
BX-2 Cascades Binoculars come with a soft and luxurious case made by Velcro. It makes carrying binoculars easy and also keeps them safe. 
It comes with a neck strap allowing you to hang the binoculars around the neck while not in use. This length neck strap is 1.25 inches or about 35 cm. 
The neck strap included here is pretty decent for hikers and long travels. You can go hunting and let the binoculars stay fastened to this strap. Velcro makes it from neoprene-nylon fabric. 
The additional accessories include a soft cloth to wipe the lens, a binocular guide book in English, Spanish, French, German, and Italian language, and a warranty registration card. BX-2 Cascades comes with Leupold's Lifetime Warranty giving you a worry-free experience. 
Focus Wheel on the Leupold Cascade
The focus wheel, as you might expect, lets you adjust the focus distance. A general use binocular has a focus distance of about 20 to 25 feet. 
Similarly, close-range binoculars for bird viewing will have a focus distance of around 10 feet. To our surprise, Leupold BX-2 Cascades Binoculars have an amazingly wide focusing distance. You can also adjust it from the center adjustment wheel. 
On our test, we started from close focus. With about a quarter-turn of the center focus wheel, we reached the focus range of 10 feet. It provides life-like images of the nearby object suitable for watching close-by birds and insects. 
We proceeded to turn it one entire round, and it adjusted to the focusing distance of 20 feet. It is the sightseeing distance to see objects that are neither too close nor too far away. 
Its focus to infinity comes from the second revolution cycle of the center focus wheel. You can easily adjust between 20 feet to infinity distance to gain a sharp image of long-distance activities. It will be helpful particularly for tracing animals during a hunting trip or following long-distance birds. 
On the aesthetics part, the Leupold Cascade comes with a textured center focus wheel. It fits the overall chassis theme perfectly. 
The adjustment on the focus wheel itself may seem counterintuitive. Like in most of the binoculars, the focus shifts with one revolution. But it has its own merits. 
You get the finely tuned adjustment experience by slowly shift the focus to get sharper images. Although branded as rapid focus center wheel, this is more of a personal opinion. 
If you are looking for a finely tuned experience, the included rapid-focus center wheel branding will serve you well. 
Do these pairs of binoculars suffer from slow focus? If you constantly shift between long-distance and close by, it will feel a bit slow. We don't feel like anyone needs to make drastic shifts with the focus wheel. But if you are an exceptional cookie, better grab yourself an extra scope. 
In our experience, you can go from watching close insects to birding over long distances with good speed. In most cases, the 'maybe' slow focus should not cause any real issues.
The Optical performance of Leupold Cascade
All of the variations of Leupold Cascade come with a 42mm aperture. Its lens system offers a wide field of view.
Generally, there are two use cases of a binocular. Either you can hold it in your hands and move the entire binocular along the field of view. Or, you can mount it using a tripod. 
In the latter case, moving the tripod isn't the optimum choice. So you peek through the lens while shifting the focus of eyes near the edges of the binocular lens. 
While the focus is just in the middle, the images will always look sharp. But depending on the lens quality, the binoculars generally tend to blur out outside of their ideal focus range, that is, in the middle. 
This roof prism binocular makes a unique specimen with its high-quality optics. The sheer amount of work that went into Leupold BX-2 Cascades binocular enhanced the capabilities of every single component of the binocular, also the optics. 
In our testing, it was evident that the lens was super vivid, even at the edges. There was some distortion. But we can safely consider that negligible as that falls outside of our 95 percent test range.
There are different variations of Leupold Cascade available with varying configurations. 
The 7×42 Cascades has 389ft/ 130m field of view at 1000 yd/m. This one provides 7.4 degrees angle of the magnified field when you look through its lens. 
The 8×42 Cascades offers 341ft/ 114m field of view with a slightly lower 6.5 angular view. It will provide you with a spacious and comfortable viewing experience. 
We also tested the 10×42 Cascades. This pair of binocular provided us with a 267ft/ 89m wide field of view. It has even less field of view at just 5.1 degrees. If you want a wide field of view, the 7×42 and 8×42 are the better choices. 
It has a slightly narrow field of view but keeps up with other specs. With the increasing magnification, the field of view is gradually decreasing. The 10×42 Cascades are suitable for hunting and general use. However, they are not ideal for wide-field gazing. You can get the 7×42 or 8×42 for wide-area bird viewing. 
The optical performance of any binocular depends on the light transmission, color fidelity, degree of chromatic aberration, prism design, and overall optics quality. We can then gauge its ability to provide a detail-rich field of view. 
Testing the Light Transmission 
Schmidt-Pechan roof prism design with silver alloy prism coating is 95 to 98 percent reflective. It allows for decent light transmission. The image is sharp and bright. 
Our unit was fully multi-coated with a silver alloy prism. So we were not expecting it to display at the level of dielectric coatings. Those are more than 99 percent reflective. 
It makes the BX-2 Cascades Series very capable of handling bright as well as dim light scenarios. It will not induce any glare or light spikes. So you will get overall similar contrast ratios. 
We felt very comfortable watching the otherwise super reflecting surfaces like water surface, ice, and snow. This design seems to handle the stray light very well under bright light conditions. 
The exit pupil ranges from 4.2mm for 10×42, 5.25mm for 8×42, and 6.0mm for 7×42. A larger exit pupil provides a brighter image during low light conditions. 
The perceived brightness depends on aperture more than the exit pupil. So even with 4.2 mm, you will be getting decent light transmission. 
Of course, if you are focused on low light scenarios, go with 7×42 or 8×42. Human eyes adjust to dim light conditions automatically. So you can't go wrong with 10×42 either.
Color Fidelity is super accurate
Color fidelity is the degree of accuracy and balance of colors in the displayed image. All of the Leupold BX-2 Cascades Binocular that we tested showed true and relatively neutral colors.
During our testing, we found no color difference or any unusual colors in the display. Silver alloy prism coatings seem to have varying levels of reflections across the color spectrum. It induces yellow shade in the images. 
There is some chromatic aberration when you place objects against a super bright background. When compared with other binoculars, the Cascades gets above-average scores. With just minimal chromatic aberration, you can use it in all situations without any worries. 
How is the Diopter Adjustment?
This wonderful binocular comes equipped with wheel diopter adjustments. It means you can configure diopter adjustments right from the central focus wheel. 
For some reason, Leupold thought the rings that usually come with the right eyepiece to change diopter weren't good enough. So they improved it a bit. If you are keen on binoculars, you know already that this gets featured in very high-end binoculars. 
Let us explain how this works. If you gently pull the end part of the focus wheel, the top part will extend or pop out. Now this, can be used as a diopter adjustment wheel. 
After making necessary changes to the left or right barrel, you can push it back. It will lock securely in place.
The cascades are Waterproof as well as Fog-proof
Leupold has pioneered and developed waterproofing as well as fog-proofing technology.
Waterproof Binoculars
The BX-2 Cascades are fully waterproof. You can use it during rainy seasons, wet gloves, or take it under the lake to watch the fish. While Leupold doesn't guarantee you that the fishes will welcome you, they are confident with the binoculars being waterproof. 
The roof prism design has fewer turns compared with the Proof prism's zig-zag structure. It gives a significantly lesser total area size to seal. Generally, the roof prism binoculars are considered easier to waterproof. 
But the waterproofing doesn't just come from the design but also from Leupold's years of research. They use the state of the art technologies and highly water-resistant materials to coat their binoculars. 
Fog-Proof? 
The Leupold Cascades are fully fog-proof as well. It was a revolutionary invention during the time. With the interior sealed completely, it will be nigh-impossible for any average joe to clean the interior of binoculars. It inspired Leupold to design a fog-proof chamber inside the barrels of binoculars.
To put it in simple terms, due to the temperature changes, the air inside of the binocular tends to expand and contract. It gives rise to the fog or haze. The lens and optics are glass, so the fogging would mean terrible or no visibility. 
Fogging was an immense problem in the past because with a tightly sealed finish, there was no possible way anyone could clear the interior fogs. The exterior can be wiped clean with a soft cloth. 
Leupold solves this fogging problem with a convenient solution during the production process. They first remove the moisture-laden air from the barrels by creating a vacuum. 
Then they fill it with nitrogen gas. The dry nitrogen gas used here prevents all kinds of fogs from forming. So you are getting the fog-proof interior straight from the factories. 
Our Verdict and Recommendation
After testing all the aspects of the BX-2 Cascades Binocular, we found that these pair of binoculars offers decent value and solid performance. 
The build quality has no flaws. It is durable, well-protected by rubber armor, and rigid. It has a sleek and modern feel to it, with a rich texture. The adjustment wheels are all smooth with uniform resistance. 
The optics are well made, and it offers decent light transmission. Though the field of view could have been a tad wider in the 10×42, its larger magnification provides enough compensation. 
These multi-coated optics will surely provide you with a detail-rich field that is wide enough for birding, hunting, sightseeing, even to peek at the stars during the night time. 
Its weather-resistant housing and eyepiece covers will ensure that these will work even in extreme weather conditions. Considering our experiences with these binoculars, we feel very confident in recommending these pair of binoculars. 
And they also provide Leupold's Lifetime Limited Warranty along with its purchase. So no matter what causes the binoculars to break, you will get it replaced without spending a penny on it. But with the solid build, it shouldn't cause you any issues at all during normal usage.
You can get your own Cascade from Amazon.com.