Centerpoint Scopes are the scope rifle division of the Crosman Corporation.
If this name is familiar to you, this is because Crossman is probably one of the largest manufacturers of BB guns as well as a pellet in the United States of America.
Today, we are going to take a look at the history as well as everything else related to the center point so, let us get started.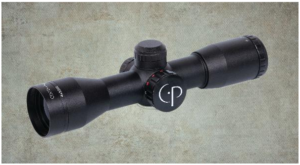 History of Center Point Scopes
Crossman, as a company, is a big deal in the pellet and bb rifle market. This has made most people assume that the riflescope made by the company is for air guns.
But that is really not the case today. While Crossman did start producing scopes like this under their branding Crosman Scope, nowadays they have moved on to better things.
They no longer make scopes for Air guns only.
Over the years, Crosman has also expanded their lineup of scopes and with a fresh rebrand as the Centerpoint line, the company looks well on its way to do serious business.
Initially, Crosman used to offer only 4 x 32 or, 3-9x  configuration scopes. But today, they have got quite a few products.
The most expensive CenterPoint scope from Crosman can be found at a retail price of $200.
These are still budget-friendly scopes. There are also, even more, cheaper options that cost around $150 but offer the same set of features and quality.
So, if you are in the market for a  center point scopes, we suggest you have a look at Crosman.
They also have some entry-level scopes that don't really have all the features and specs list but they can be bought for less than $100 in some cases.
So, Who Makes Centerpoint Scopes?
Well, we might have already answered this! Crosman makes the Center point scopes. Most of their model is manufactured at their facility in China.
We are not sure where it is located in China though. Most American scopes are actually manufactured in China.
For instance, BSA scopes are manufactured by YOH Optics in china. We believe there are other similar manufacturing plants for other American companies.
This does not mean that all American scopes don't have quality because they are made in china. All the Research and Development happens in America.
The scopes are simply assembled and put together in China.
The design and the actual science happens inside America. Due to cheap labor, China is able to produce the scopes in bulk!
While there are also some generic Chinese Scopes that have extremely low quality and deserve to be dumped, there are also some incredibly high-end scopes that come from china.
Center Point is in no way a trash product. It is actually decent.
Speaking of which, let us get into seeing how good the center point scopes are actually.
How Good Are The Center Point Scopes?
In terms of reviews, Center Point scopes have a really mixed review. Some customers thought that the scopes are reliable, inexpensive, and entry-level.
On the other hand, others rated these scopes as very bad. The experience of use and personal preference really makes a scope either very good or incredibly bad!
The reviews also depend on time. Just five years ago, Crosman's Center Point lineup wasn't as advanced as it is now so, the scopes were very very bad.
But these days, Crosman has learned some valuable lessons and it has made really significant improvement in the scope.
The feature set of the scope is really great and the overall performance is nice as well.
We can say that Crosman's scopes are in the same category as some big brands like Vortex and Nikon (the high-end ones). The low-end ones don't even come close!
But they do offer some great features at that $150 price point. These features include Side Focus, Parallax Focus down to 50 yards, and even Illuminated Reticles in some models.
Crosman is definitely value for money scope. They implement straightforward low pricing and provide some decent customer service, warranty options, and more in their scope.
Their packaging is also nice and often you get a really nice product with zero manufacturing defect. Their best-selling model is definitely the CenterPoint 4 x 32 crossbow scope.
Every reviewer that we have seen write a review has written good things about this particular scope. It is mainly because of the affordable price, incredible quality, and overall great aesthetics.