Bushnell is one of the industry leaders in the Binoculars market. It is one of the best automatic focusing binoculars. It is a prestigious brand in this sector that has done a lot of great things on Binocular design and development.
The company has been producing really high-performing optics for a long time. They have experience of over 50 years in this market.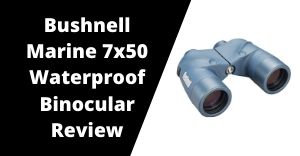 Bushnell Marine 7×50 Auto Focus Binocular Full Review
They dedicate their time designing some of the best binoculars for affordable prices and the Marine 7×50 is one such incredible product from this reputed company.
As the name suggests, the Bushnell Marine 7×50 is binocular that is meant for activities such as boating. It has a ton of features that helps you to traverse the marine environment.
In addition, the binocular is incredibly durable as well. So, let us get started and see what the fuss is about this particular binocular!
Features of the Marine 7×50 Binoculars
Waterproof Feature
This Bushnell binocular ticks all the boxes required for it to be a good set of Marine Binoculars. For a marine binocular, the most important feature to have is the waterproof construction and this Bushnell binocular really fit that box.
It has an O-ring sealed construction which is nitrogen purged to keep the moisture out of it. In addition, the binocular is hermetically sealed as well. This keeps the moisture out of it.
The binoculars have been designed to resist saltwater as well. In addition to this, this pair of binocular will also float in the water if you drop it accidentally.
Digital Compass
The Marine 7×50 is the newest binocular version that ships with a triple-axis digital compass. This compass is placed right into the viewing optics and it has illumination with directions that help you to keep track of everything.
The compass bearings are pretty accurate. This digital compass can deliver reliable accuracy anywhere in the world. So, whether you are in the Sahara desert or Mount Everest, the Compass will have accurate directions.
Rangefinder
This binocular also has a rangefinder that you can use at any distance. A range finder basically shows you the distance of a far-away object. The reticle in the binocular makes this possible.
You can see this right above the compass display. There you can view the distance to any object or even estimate the height of an object.
This is a very good feature if you are out hunting in the wilds. You can also use this to gauge distances on a battlefield!
Marine Use
A lot of people have this misconception that Binoculars are meant for land and open areas. But this is not correct, Binoculars are great for a variety of reasons.
Just looking at the sea or large open water with it is just great. And the marine 7×50 has the perfect specs for it. This binocular comes with 7x magnification so, the images you get from here is incredibly good.
In addition, you are also getting powerful binoculars that are incredibly easy to use. Most of the marine binoculars have 7x magnification and this one is no exception. It gets the job done!
Lens System
One of the best things about this binocular is the incredible lens system. You get Porro Prism lens design and multi-coted lens with BaK-4 prism glass. This is state-of-the-art technology.
It will definitely provide a great amount of light transmission. What this means is you will have a really bright image that will also be crisp thanks to the 50mm objective lens present in the Binoculars.
Build Quality
In addition to the lens system, you also get a really great build quality with the binocular. The nonslip rubber grip is perfect for all kinds of environments and sweaty palms.
In addition, the whole outer part of the binoculars has this armor cushions that can take bumps and drops.
Comfort is also taken into consideration with roll-down eyecups for people wearing glasses. You can even fit the binoculars on a tripod.
Product Specifications
Product dimensions: 7.01 x 2.8 x 7.4 inches
Weight: 36 oz
Close distance focus: 25 Feet
Magnification: 7x
Field of View: 380 feet/ 1000 yards
Special features: Waterproof, fog proof, and lifetime warranty
Conclusion
The Bushnell Marine 7×50 is a rugged full sized binocular with two main selling points: Durability and Lens Performance.
The build quality and the design of the binocular makes it incredibly durable and rusty while the 50mm objective lens provides clear and bright images.
In addition, the binocular has an in-built digital compass and a rangefinder. So, you are really getting complete value for your money with this one!