The Celestron Cavalry is a really impressive binocular with a lot of great features. It consists of four incredibly tough Porro Prisms that you can use for all kinds of outdoor activities. The binocular can be used in all kinds of military, law, security and other use cases.
It is one of the best automatic focus binoculars available on the market right now. With this series of binocular, you get a really long range. You can observe objects placed far away from you with it.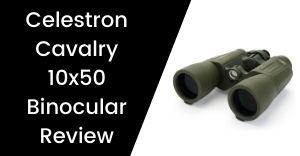 In addition, this binocular is also really great in low light performance and the compact design makes it incredibly nice to use. Let us take a look at some of the features that this one has.
Celestron Cavalry 10×50 Auto Focus Binocular Features
Design and Build Quality
The Binocular is designed to house an LCD screen and a battery. The shape is quite good here. Since it has the Porro Prism system, the eyecups are placed together in a close-knit manner.
The binocular comes with rubber armor that kind of covers the entire external part of it. The rubber has a nice quality, it is less reflective and the exposed plastic part will definitely help you get concealed in a proper way. This can be great in certain security situations.
The rubber is average here in terms of the thickness that it has as well as the hard part of it. The binocular offers a pretty reasonable kind of impact here and protects the binocular from the Sharp edges.
The hard exterior does not really mean that the surface offers grip though. It does provide more than enough grip but the sponge like armor is a bit bad here. Anyway, the texture is great.
Technical Features
There are many technical features here such as:
An LCD screen is placed on the top of this instrument. This screen can be used to view other items inside the binocular such as the directions from the digital compass, GPS, and more. The compartment that houses the screen is 5 x 4.5 cm in dimension. The screen itself is quite great. It has nice quality and you can turn it on or off with the buttons. This screen also has a button for cycling two modes: Compass and GPS.
The Compass here is good enough. It is a digital one so, it might not be as accurate as of the traditional compasses but it does get the job done. There are different arrows that point you in different directions. The compass can also rotate in all directions which is quite a nice feature to have.
In the case of GPS, it shows you both the Latitude as well as Longitude and it even has a feature that reads the altitude of different terrains.
Fog and Water Resistant
The Celestron cavalry can be used in all kinds of rough conditions and it is able to withstand many things without a problem. The binocular has both water and fog-proof features. It is filled with nitrogen gas that makes it fog proof.
This binocular also has water resistance so, you can definitely use it in marine environments and not damage it. A quite cool right? So, the next time you are going on a trip to the sea, do use this binocular!
Lens System
The lens system is quite incredible here. The lens is quite good with a diameter of 23mm which is large enough. While the company doesn't provide any information about their lens system in detail, we do know that it has 50 mm lens with the potential to capture a lot of light.
It also has a pretty large exit pupil that makes it easy to line up your eyes correctly and in turn makes the binocular very easy and even quick to use. You don't really have any issues with using it. The Porro Prism here can also rectify any inverted images and it also makes the binocular compact.
Product Specifications
Product dimensions: 7.70 x 2.60 x 7.20 inches
Weight: 32 oz
Close distance focus: 29.5 Feet
Magnification: 10x
Field of View: 294 feet/ 1000 yards
Special features: Waterproof, fog proof, and limited lifetime warranty
Conclusion
The Celestron Cavalry is a nice binocular that you can buy for the money. While it is not perfect, it gets the job done for the money. The focus distance is the only gripe that we have with it but if you can overlook it, it's the best one for you. The overall experience that you get from this binocular is quite impressive and the binocular also lasts a good while so, this makes it useful as well.