With a reputation for providing high-quality optical equipment for birding, hunting, wildlife watching, military, and recreational purposes, Vortex has grown into one of America's top optics brands.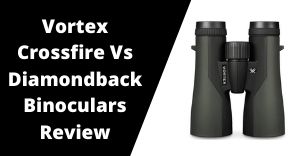 It's no wonder that two of the most popular binoculars on the market, Crossfire and Diamondback, are both from Vortex. Spectacular optical quality and rugged construction are presented in both of these binoculars at a very reasonable price. The question is, which is better?
Watch as we compare the Vortex Crossfire Vs Diamondback binoculars to determine which one is the best.
Comparison Table For 4 Of the Best Vortex Binoculars
| | | | | |
| --- | --- | --- | --- | --- |
| | Vortex Optics Crossfire Roof Prism Binoculars | Vortex Optics Crossfire HD Binoculars | Vortex Optics Diamondback HD Binoculars | Vortex Optics Diamondback Roof Prism Binoculars |
| | | | | |
| Dimensions(Height x Width) | | | | |
| | | | | |
| | | Nitrogen purged and O-ring sealed | Argon purged and O-ring sealed | Argon purged and waterproofed |
| | | | | |
| | | | | |
| Field of View/ Angular Field of View | | | | |
| | | | | |
| | | | | |
| | | | Fully multi-coated with anti-reflective coatings, dielectric coating, and Armotek coating | Dielectric, fully multi-coated |
| | | | | |
Vortex Crossfire
Vortex Crossfire binoculars are quite similar in appearance to Diamondbacks and are part of the Vortex Crossfire line. They are offered in full-sizes with roof prism technologies and a range of lens diameters, including 12×50, 10×50, 10×42, and 8×42.  
These binoculars all have fully multi-coated optics, providing brighter and sharper images. In addition, they are coated with anti-reflective coatings to enhance light transmission and color accuracy.
Vortex Diamondback
Vortex Diamondback consists of nine models divided into two categories based on the size of the objective lens: compact-size and full-size. The compact-size includes 8×28, 8×32, 10×28, and 10×32 while the full-size includes 8×42, 8.5×50, 10×42, 10×50, and 12×50. 
Diamondback binoculars feature dielectric FMC coated optics and deliver outstanding optical performance even in low light conditions like dawn or dusk.
Vortex Diamondback Vs Crossfire Binoculars
Although Diamondback and Crossfire look alike, there are a few key differences that set them  apart. As we've seen, each differs from the other in a number of ways.
Optical Quality
Diamondback features a dielectric fully-multicoated optic, but Vortex only offers fully-multicoated optics of a slightly lower grade. Diamondback binoculars have a higher level of refraction than Crossfire binoculars. 
Due to diamondback's superior glass quality, its views are brighter, more accurate and have less color aberration than Crossfire.
Magnification
Magnification is also important when you need to use your binoculars for a specific purpose. From 8x magnification to 12x magnification, Crossfire offers a variety of lenses. In contrast, Diamondback offers model sizes ranging from 8x all the way to 15x.
Diamondback definitely wins the battle against magnification power, but they are  also quite expensive when compared to Crossfire binoculars. 
Lens Diameter
Binoculars work by capturing light through their lenses, which determines how much light they can catch. In general, the bigger the diameter of a lens, the higher the resolution and brightness of the  resulting image. 
It helps to have a larger diameter lens, especially when magnification is high.  
Field of View and Close Focus Distance
Having a wide field of view with the magnified image makes it easier to grasp a lot in just one frame when doing normal activities such as bird watching, wildlife viewing, nature viewing, and sports watching. With higher magnification, you're bound to lose some peripheral vision. Most binoculars today have a wider objective lens to collect more light and provide a  wider field of view. 
In comparison, Diamondback and Crossfire have a similar field of view at 1000 yards of about 325 feet. Even though they have the same magnification power, the Diamondback HD Binoculars by Vortex Optics use the greatest field of vision at 1,000 yards with 330 feet.
Additionally, the closest focus distance of any of the cameras we have compared is achieved by Diamondback. Diamondback HD 10×42 has a minimum focus distance of 5 feet, while Crossfire has a minimum focus distance of 6 feet. 
Weight and Dimensions
It is noticeable that Vortex Diamondback binoculars are much lighter in weight and much bulkier than Vortex Crossfire binoculars. The table above shows that even the models with the same 10×42 magnification and objective lenses are much smaller and lighter at 5.7 x 5.1 inches and 21.3 oz than the Crossfire at 6.0 x 5.1 inches and 23.32 oz.
In terms of compactness and weight, Vortex Optics Diamondback Roof Prism Binoculars have just ranked first with their 13.5 oz and 4.4 x 4.6 inch dimensions.
Body Construction
As you view through the binoculars, the exterior construction is important because you'll rest your hands on it. As with the Vortex Crossfire, the Vortex Diamondback binoculars feature non-slip rubber armor that feels comfortable to hold as well as providing protection against falls.
Additionally, the construction provides other benefits such as waterproofing and fogproofing. Both of these binoculars offer full waterproof and fogproof construction, while most binoculars in this price range only provide waterproofing. 
This binocular differs from the rest by the inert gas it contains. Argon is used in Diamondback, and nitrogen is used in Crossfire.   
Price
Lastly, let's talk about price. Each of these is priced under $300, making them a great deal for what they offer. 
In summary, the Vortex Diamondback has a few additional features, including a smaller  and lighter body construction. The reason for the price difference is that it is a little more expensive than Crossfire  Binoculars. Due to the high performance optically and to the quality of construction, the price is justified.
However, the Crossfire is not a bad purchase. At this price point, the Vortex Crossfire Binocular is a very capable piece of equipment with excellent optics that outperforms most binoculars from other manufacturers.
Final Say
Based on this comparison between vortex diamondback vs crossfire binoculars, both are pretty impressive with their optical performance and affordability and are the best binoculars for the money. Diamondback, on the other hand, has better optics and an ergonomic design which gives it the edge over Crossfire. 
While Diamondback does perform better, Crossfire wins if we are looking at the price to performance ratio. Crossfire offers comparable optical and mechanical performance to Diamondbacks, despite its lower price.
However, they are both ideal for birding, hiking, viewing sports, and other  activities. For your specific reasons, you may prefer one over the other, but both will provide an excellent viewing experience and last for years.
Checkout Other Posts on:
7 Best Auto Focus Binoculars | Reviews & Buying Guide
14 Best Binoculars Of 2021 For The Money | Reviews & Buying Guides
Best German-Made Binoculars Brands | Reviews & Buying Guide
7 Best Binoculars For Police Surveillance | Reviews & Buying Guides
7 Best Binoculars for Peeping and Apartment Spying | Reviews & Buying Guide
7 Best Binoculars for Alaska Cruise | Reviews & Buying Guide
7 Best Binoculars Made In USA[American]
7 Best Binoculars For Whale Watching From Shore or Land
7 Best Binoculars for Elk Hunting | Reviews & Buying Guides
8 Best Binoculars for Sporting Events | Reviews & Buying Guides
7 Best Compact Binoculars for Birding and Hiking | Reviews & Buying Guides