For the longest time, I've thought that hiking boots were only good for hiking. When I saw a friend rock his boots with his stylish pair of jeans, boy was I surprised!
Whether you're planning to go on a trek and cannot resist the urge to look stylish in jeans, or just want to bring your boots along for a casual stroll, we're here to tell you that as timeless as boots are, they are also quite versatile. As long as the temperature isn't too hot, you will almost always look cool with a darker shade of jeans.
Making sure that you're making a fashion statement with your favorite boots can be tricky. In this short post, we will guide you so you know everything you need to start wearing your boots with jeans more often. We start with the variety of jeans you can wear, and talk about how you should wear your chosen pair of jeans with hiking boots so you can stay comfortable and safe while hiking.
Types Of Jeans
Though jeans are undeniably trendy and stylish, are they really comfortable enough to wear on rough terrains in frigid conditions? The ideal checklist should make sure that you aren't freezing in the cold or have debris in your boots while hiking.
Jeans aren't the favorite of most hikers – and for a very good reason. The material of jeans absorbs moisture and doesn't dry up quickly. Most jeans come in a ripped fashion, and that's not exactly protective for your legs, is it?
That said, you can definitely wear jeans on a daily basis plus on short hikes as long as it's not too cold. Knowing about what options you've got when choosing your next pair of jeans can make a huge difference.
Straight Jeans
Straight Jeans are the most common kind of jeans you'll find on the streets. What straight basically means is – though slim-fit, these jeans will have the same width from your knee to the opening. The shape isn't as flattering as a tight-fitting piece of clothing but it ensures that your legs can move freely.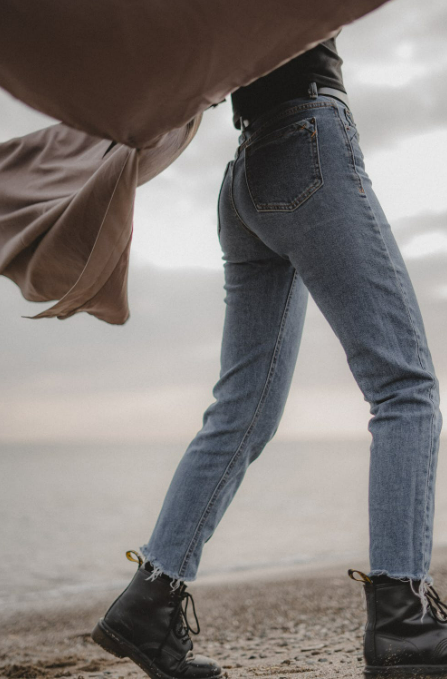 If you are looking for comfort and a touch of style, straight jeans will certainly make it on your list. You should also consider the color of your jeans- getting something white and shiny might be your first idea, but that's a terrible idea. Hiking trails can get muddy and rough, and the last thing you want out there is to look dirty. Dark jeans won't look that bad, and they're a great choice for wearing outdoors.
These are fashionable, warm, and durable but if you know you might get wet during the hike, these will soak up water and not dry up as quickly as you'd like. You're also sacrificing some movement by not going for standard hiking pants.
Skinny Fit/Boot-Cut Jeans
Perhaps the most stylish kind of jeans are the skinny jeans- these hug your body well, stretch quite nicely, and are very comfortable- at least as long as you're in an urban setting!
If you are going to be hiking on difficult trails and don't mind falling but want to look good in your snaps, by all means, get skinny-fit jeans. These are also great at soaking up moisture if you're hiking on a damp trail.
There's also an upside – since skinny jeans usually taper down your legs, you can easily tuck them into your boots. This way, you won't get debris or insects inside your boots.
The important thing is- you won't look like a stud while hiking and possibly pick up some dates.
Jokes aside, we wouldn't recommend skinny jeans as these limit mobility and aren't very comfortable if you need to move around a lot. Still, if you believe these are okay for your needs and have some experience hiking in them, go for them!
We like to think of these as similar to boot-cut jeans. While boot-cut jeans open up near the openings, they are also quite hard to style and won't tuck nicely into your boots, at least you won't look stylish doing so. We would only advise you to wear them if you know the trail is free of insects and anything that might make its way into your hiking boots.
Cropped Jeans
Cropped jeans are shorter than regular jeans and can be straight or skinny- they are usually not restrictive and are quite comfortable while hiking. So, you won't need to tuck them inside your hiking boots. You can cuff them if you don't mind them being even shorter on your feet.
While cropped jeans do look hip and might be your top choice for a casual outfit, we think they don't make very well hiking wear as they leave your boots susceptible to insects and all kinds of dirt from seeping in.
However, if you're going on a short hike that's not too difficult, you should be fine with cropped jeans. The good part about cropped jeans is- you don't have to worry about styling them and will look good anyway.
How To Wear Hiking Boots With Jeans?
How do you make sure that you don't look like a boring guy while wearing jeans with a boot? There are some things you need to keep in mind if you are considering wearing jeans for your next hike. These include paying attention to the length of your outfit, the color, as well as the right fit so you can have a comfortable experience while staying as stylish as possible.
Here are some tips to make the best out of pairing hiking boots with your favorite jeans:
Make Sure The Jeans Are The Appropriate Length
If you're pairing jeans with your boots, you need to make sure that the jeans are at least long enough to be tucked into the boots so you can stay safe from dust/debris and harmful insects along the way.
It won't be possible if you decide to go with cropped jeans but if you've got straight or slim-fit jeans, you should make sure that the jeans are just long enough to cover the top of your boots. If it's a short hike, leaving your boots exposed won't be much of an issue but if the hike is long and strenuous, you want to avoid exposing your boots.
You should also pay attention to whether the edges of your jeans bunch up near the top of your boots- it doesn't look that great, and if you want to take good photos, you'll want to make sure they're tucked neatly into your boots.
Of course, wearing long jeans that are constantly touching the floor and dragging mud and dirt is a bad idea, and easy to avoid.
Choose The Right Color Of Jeans And Boots
You can find jeans in all sorts of shapes and sizes, but you should also pay attention to the color if you want to look great in them! Ideally, you should match the color of your jeans with the color of your boots but if that's not possible, going with a darker color like black or deep blue can be a great idea.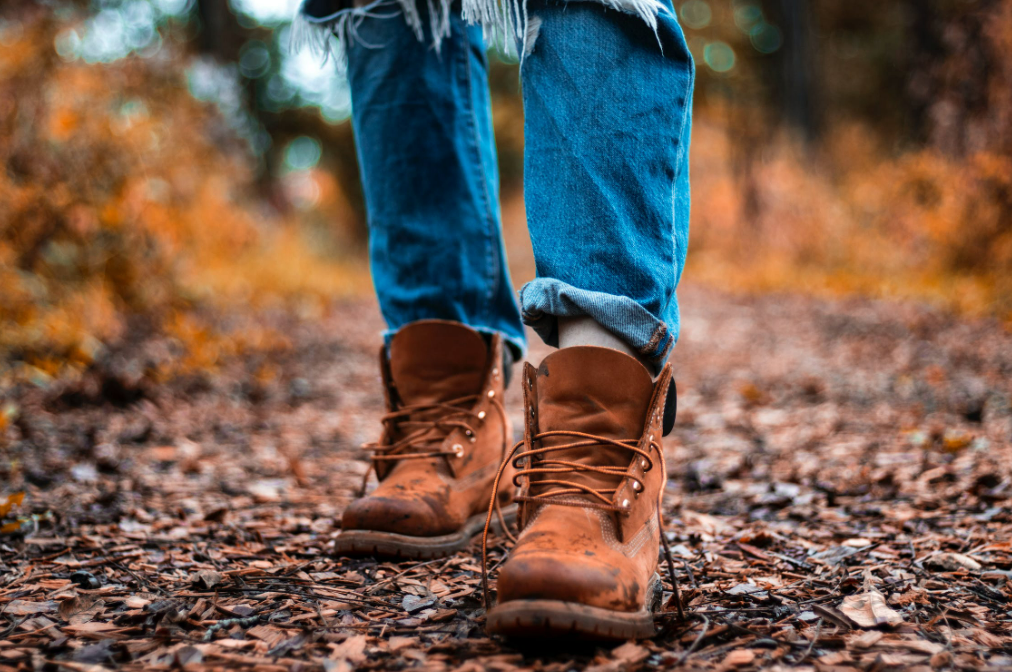 Blue jeans are also quite versatile and can easily be worn casually on any occasion. These do fade in color after some washes, so you'll want to get darker shades just in case. Dark blue jeans work specially well with brown or greyish boots, so that's something you might want to keep in mind!
Go For Thicker Materials
You might be tempted to go with ripped or a grunge look but believe me, it's one of the things that can leave you cold while hiking in cooler conditions, especially in the rain or damp places.
We do advise hikers to keep their belongings light and not pack that many things while outdoors but you should always get thicker rugged clothing if you're going outdoors in the winter. Thick denim also has the added advantage of keeping you warm while keeping you stylish.
Visit kailash parbat clothing store for your next clothing.
There's a downside to thicker materials, however- these things take longer time to dry up so you need to pay extra care to not get your denim wet.
If it's summer, you can go with a lightweight pair of jeans as well- it doesn't really matter but we suggest you avoid ripped jeans as that just makes it easier for insects and dust particles to get in.
Choose Socks Appropriately
You may have seen girls tucking their jeans inside their long thick socks. That may seem unusual to you but it's actually a great way to stay safe from insects and other animals that might crawl into your boots while you're off enjoying your hike.
Shorter socks make more sense if you're not hiking but if you're constantly moving around, these can cause you mild discomfort while walking. If you are feeling adventurous, you can go for colorful socks and tuck your jeans in them- these not only keep you warm but also make a fashion statement!
Roll Jeans Over Your Boots
If you want to look classy wearing your jeans, you can roll your jeans over your boots. This works especially well if you've got jeans that aren't as tight as skinny-fit jeans.
Tying the ends of your jeans with elastic bands can also be a good option if you want to keep them tight. This works quite well for most jeans but you might find insects creeping into your boots.  Cuffing and rolling jeans are good options but we think you are much better off just tucking your jeans in and only rolling/ cuffing them when you need to take photographs.
Rolling jeans is super easy. If you're having trouble getting the cuffs right, just follow these steps or watch the video below:
With your jeans straight, pick a portion of fabric on the inside with your index and thumb.
Hold and pinch the fabric- hold more fabric if you want it to fit tightly
Fold the fabric carefully
Cuff the jeans
If your jeans are long and you don't want them to get dirty, rolling them once or a couple of times can be a good idea. However, this won't work that well for kick-flare jeans or trousers that have wide openings.
Wear Jeans Over Boots
This, of course, is the normal way to wear jeans with boots. It works quite well if you've got jeans that aren't too long and don't want to spend time styling your jeans.
You don't need to cuff or roll your jeans to appear fashionable- and while tucking jeans will prevent you from insects/ ants/ dust, it's not much of an issue if your trail isn't that difficult. Unless you've got shoes you really want to flaunt, we don't think it's necessary to roll or cuff your jeans.
To be honest, this is how we wear our jeans over hiking boots most of the time, and it works well!
Wear Trousers/ Leggings On The Inside To Stay Warm
If you're hiking in cold weather and are worried about jeans being too cold, you can wear leggings underneath your regular pair of jeans. This will not only prevent the skin of your legs from rubbing with the material of the jeans but also keep you warm on the inside.
It's also super easy to get a pair of leggings and wear them before wearing jeans as you don't need to worry about the color or having to match them right with the rest of your clothing. You do need to keep in mind that these do soak up water and won't dry away instantly, so don't get drenched while you're wearing leggings inside your jeans.
Frequently Asked Questions
Are hiking boots casual?
Thanks to their tough and rugged appearance, hiking boots are usually preferred by trekkers and hikers to stay warm and protected on rough terrains. That said, hiking boots have become trendy these days and it's common to see folks pairing their boots with jeans and even shorts. You can dress up or down, and though you wouldn't usually wear boots to formal occasions, you can make them work anywhere else.
Should you tuck jeans into your boots?
Tucking your jeans into your boots helps prevent insects or debris from getting in. Usually, most trails have a lot of dirt, plants, tiny animals like ants and beetles, as well as poisonous insects that could easily make their way inside your jeans and bite you.
Unless you've got cropped jeans or baggy jeans that won't let you tuck them in, it's a good idea to try to tuck them in. It's also the standard practice among hikers and you do look good in photos.
What hiking boots are good for wearing with jeans?
Any hiking boot can work with jeans as long as you're making sure that your jeans are neatly tucked inside your boots and keeping you safe from tiny pests and dirt getting in. You will also want to make sure that the color of your boots and the jeans match. Ignoring the trends to get a good versatile pair of boots like Timberland is a great option as you can use those boots not just for hiking but also for casual wear.
What kind of jeans should I wear with hiking boots?
If you're going for a short hike, you can make any kind of jeans work. But if you're going for long treks, you will want to avoid cropped jeans as those don't have the length to be tucked into your shoe and keep the top portion of your boots exposed. You can wear skinny, straight-leg, or boot-cut jeans with hiking boots as long as they match and feel comfortable.
Conclusion
Not only are hiking boots reliable and sturdy but they are also trendy and stylish if done right, so there's absolutely no reason not to wear them with your favorite jeans. Wearing these can keep you warm and protected in rainy or cold areas.
We don't think jeans are the best outfit for long grueling treks but if you know the hike is going to be short and easy, there's really no reason to not wear jeans. Just make sure you get jeans in a darker shade so it doesn't look dirty, and keep your ankle protected by tucking your jeans into the boots if possible.
Trends will come and go but you should always keep your comfort and safety in mind when going hiking and not bear with something that feels weird. Your ideal wear should be waterproof, flexible, easy to clean, and most importantly – feel comfortable while hiking. If your chosen pair of jeans and boots tick off these, there's no reason why you shouldn't pack them for your next hike!