Jason/Empire Inc. started in 1947 under the name 'Jake and Son' when Jake Levin and his son Dick Levin started an import business. It was formerly located on the eighth floor of a building located at 12th & Walnut Street in downtown Kansas City, Missouri.
In earlier days, they imported binoculars from France. Hence, the popularity of Jason binoculars. They begin selling binoculars and optics equipment to catalog showrooms.
Following the rise of markets, they saw an opportunity on other items as well. So, they imported pearls from the Orient and cigarettes as well. Then they sold these items to jewelry stores.
It diversified their business for more business opportunities yielding them more customers to sell binoculars to. All their products were launched under Empire branding, which gained popularity in its early years. Their notoriety was ever-increasing.
The company's name was shortened to Jason. Jason comes from the abbreviation of Jake and Son, so nothing drastic there. Shortly following, the company was relocated to a facility in Kansas City on Warwick Boulevard.
Although Jake was actively involved, his son was primarily responsible for extending the business throughout the United States. His vision evolved their binocular and telescope business enabling it to compete in the sports optics market.
This gradually turned into a dominant competitive force and caught the attention of the Minneapolis, Minnesota-based Carson Companies Inc. In 1997, Carson Companies, Inc. procured Jason/Empire and continued its business.
In 1987, the company started making Perma focus binocular. The free-range binoculars eliminated the need for focusing and provided highly detailed images.
It was marketed as InstaFocus design. Perma focus, also called free focus, was a feature that made the binoculars completely automatic and focus-free. The focus was set at 50 feet, nearly 15 meters, permanently at the factories.
This revolutionary feature propelled the company ahead of its competitors. It worked great for sports events during moderately cold seasons in addition to watching stars at night time.
Glass On was the first binocular marketed towards people wearing glasses. Unlike any other binoculars at the time, it provided a detailed and sharp wide-angle field of view.
Most available binoculars were totally unusable with glasses due to their non-existent eye relief. Their massive success and ever-increasing innovation caught the attention of yet another company. It was the Bausch this time.
In 1992, Bausch and Lomb, widely known by its Bushnell division, purchased Jason from Carlson Companies, Inc. They relocated it to Overland Park, Kansas, and used its technologies in their own optics.
After the acquisition, the Bushnell division was renamed Bausch and Lomb Sports Optics Division. They targeted Jason's existing customers by including Jason's Perma focus design, featuring auto focus in their product line offerings.
After three years, Bausch and Lomb broadened the Sports Optics Division by becoming a wholly-owned subsidiary of Worldwide Sports and Recreation, Inc.
They used to design, manufacture, and market branded sporting goods. They were also a leading producer of outdoor recreational products at the time. With its rising popularity, the Bushnell company was acquired by yet another company.
Many of the old products that included the Jason branding were all later rebranded as Bushnell models. Currently, Bushnell does not provide any Jason branding to their products.
You may still find some of Bushnell's current offerings featuring Perma focus, with added features. This reminds us of the improvements made towards binoculars throughout history.
To sum it up, Jason Inc was a common household binocular and telescope maker. The binoculars were in production from 1947 till 1992 until Bushnell took them over.
An important point to note here is they did not manufacture their own binoculars. Jason was simply a brand name put on their imported binoculars from foreign vendors.
These pairs came with a Porro prism design, mostly Bak-7. From 1987, Jason introduced the Perma focus design. These lenses were fully coated and provided clear, bright, and sharp images as you gazed through the lenses.
In modern types, this design is not desirable anymore. But at that time, it was perceived as surprisingly good. Roof prism design provides a greater depth of field and a much wider field of view. But roof prism binoculars are much easier to hold due to their streamlined design.
A large portion of Jason's binoculars was Japanese-made. However, the first few models were imported from France.
Jason optics had an average build quality at a reasonable price. However, their primary focus towards the entry-level mass market slowly deteriorated their quality.
The Bushnell focus-free 'Jason' Binoculars are available in Porro prism (wide-angle) and Roof prism design. Their wide objective lens has good brightness and a wide range of view.
They are available in few size variants featuring the following magnifications. The models here come with a Bak-7 glass Porro prism system.
Bushnell Perma focus (Jason) 7×35 Binoculars
These 7×35 binocular comes with a wide 578 feet (176m) field of view. It can provide up to 7x magnification. These pair of binoculars weigh 638g/ 22.5oz, about 1.4lbs. Its slightly heavier feel is due to its remarkably strong-built and shock-absorbing rubber armor.
It comes with fold-down type eye cups, 12mm eye relief and, a 5mm exit pupil that allows for infinity focus. A 35mm fully coated lens is included in this small package. This gives decent magnification without blurring the image. You can also add a tripod mount to it.
Bushnell Perma focus (Jason) 7×50 Binoculars
These model 175007 binocular comes with a 372 feet (124m) wide field of view. It provides you with 7x magnification. These pair of binoculars weigh 771g/ 27.2oz, about 1.7lbs. Its compact size allows them to be super lightweight.
This pair comes with fold-down type eyecups, 20mm eye relief and, a 7.1mm exit pupil. The fully coated lens included here gives you a sharp, clear, and vivid image. It has free focus. You can also add a tripod mount to it.
Bushnell Perma focus (Jason) 10×50 Binoculars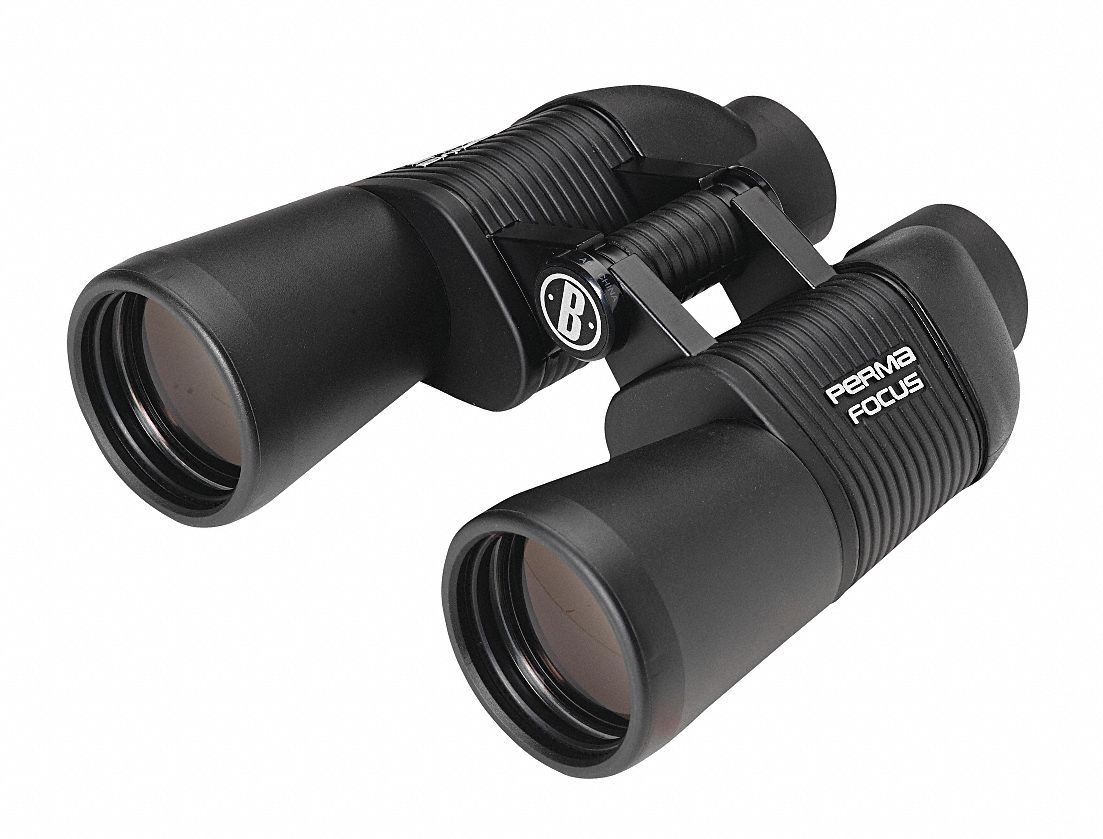 These model 175010 binocular comes with a slightly lower field of view at 393 feet (131m). These pair of binoculars weigh 1100g/ 39oz, about 2.4 lbs. But they will provide you a much greater 10x magnification.
It comes with fold-down type eyecups, a slightly higher 14mm eye relief, and a 5mm exit pupil. Its unique focus-free feature allows you to perceive detailed images with stunning clarity. You can also add a tripod mount to it.
Bushnell Perma focus (Jason) 12×50 Binoculars
These model 175012 binocular comes with a 265 feet field of view. It provides you with 12x magnification. These pair of binoculars weigh 879g/ 39oz, about 2lbs. It comes with fold-down type eyecups, 9mm eye relief, and a 4.2 mm exit pupil.
Its fully coated optics permits more light in, giving it a bright image. Its shock-resistant rubber armor will allow you a good grip. You can also add a tripod mount to it.
FAQ
My Jason Binoculars are getting Sticky. How do I fix it?
There are few ways of resolving this issue. The first one is to get nail polish remover. Apply acetone on a soft cloth and clean binoculars with it. Then apply car/boat wax on the cleaned area to give it a shine. It should shine like a diamond.
The second one would be to use pure vegetable oil-based soap. Clean it with isopropyl alcohol if nothing else works, and it should be good as new. Maybe not, but at least it will get non-sticky, which is good enough.
My Jason binoculars are broken. How do I get them repaired?
Whether you just need some parts or want to get them repaired by a professional, the situation here is a bit tricky. The replacement parts are not readily available. Also, if they're available, the quality is not up to par with the original.
In a normal situation, you have to buy similar another pair of binoculars and use their parts. Which may make this entire endeavor a bit pointless, not to mention expensive.
If you couldn't find similar components for the binoculars, don't get stressed over it, as you have yet another alternative. This time, you could get the parts custom manufactured to fit your binoculars perfectly.
This could get a bit on the expensive side, but if it's a memento or a souvenir, you could justify spending couple hundred bucks on it. Great deal? Maybe not. But you're not out of options, that's the essential bit!
Are Jason Binoculars just perfect for me?
If you are looking for a relatively inexpensive but decent pair of binoculars, Jason binocular is the way to go. Many binoculars need focus shifting from time to time, with minor adjustments. But with this one, it is a different experience.
With Jason, the image will look good instantly with autofocus. It has a solid build with rubber armor. You get a clear, broad view. Give it a try, and see if it works out for you.
Check more posts on:
Vortex Crossfire Vs Diamondback Binoculars Review
7 Best Binoculars for Hiking/Backpacking | Compact & Premium
7 Best Binoculars Made In USA[American]
7 Best Binoculars For Whale Watching From Shore or Land
7 Best Automatic Focusing Binoculars | Reviews & Buying Guide
7 Best Binoculars for Sporting Events
7 Best Binoculars For Police Surveillance | Reviews & Buying Guides
7 Best Binoculars for Peeping and Apartment Spying | Reviews & Buying Guide
Best German-Made Binoculars Brands | Reviews & Buying Guide