I got it, you want the best pair of binoculars under $100, right? Well then, you've landed in the right place.
Binocular price ranges so differently. It might start with $20 to even not ending at $3000. But most of the time even the highly expensive ones cannot perform so well as expected.
In such a case, it can be a bit challenging to get the best binoculars under $100. And sometimes, the binoculars that get delivered might not perform so well as shown in the monitor.
But hey, Don't worry. We've it all figured out. We have listed out some of the best binoculars under $100 that you can choose according to your preferences.
In case you're willing to increase your budget, here are the best binoculars under $200.
7 Best Binoculars Under $100
1) Celestron 71330 Nature DX 8×32 Binocular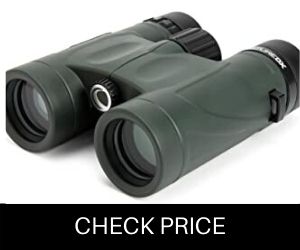 Unless you're seeking anything other than 8x magnified binoculars, this could be the best pair of binoculars you could ever buy. This binocular has been made by keeping outdoor enthusiasts in mind. It is waterproof and fully rubber armored binocular.
Feels really great when taking outside to watch the beauty of nature. Bird watching and animal watching can be done with this binocular. Delivers high-quality excellent images. 8x magnification is good but not great when suppose you're seeing anything from 100 yards away.
Colour management is pretty amazing and the field of view is also outstanding. This pair of binoculars comes with attached rubber lens covers that can save your binocular from windy and water choppy day.
 Stargazing is very demanding on binocular where brightness, resolution, and edge distortion needs to be perfect. The binoculars which are good for the night view aren't always perfect for the day. For a better option, don't only run after the reviews of a few reviewers.
Sometimes anything good for one situation could be worst for others. Even Ph.D. Ecologists are using these pairs of binoculars, and they are more professional than we usual one. This binocular is the best value of money, and you definitely won't regret buying this. 
National Audubon Society has rated highest to these binoculars. The weight of this binocular does vary from item to item as they are available in different sizes. They don't feel heavy at all in your hand.
They also have rubber coating all around it that makes it more comfortable to hold. The comfortability of this binocular is based on people but it is stretchy around the neck. Compact carrying case, Objective lens caps, An eyepiece rain guard, a neck strap, and a lens cloth fill the gap of your need for easy use on the go.
2) Vortex Optics Raptor Porro Prism Binoculars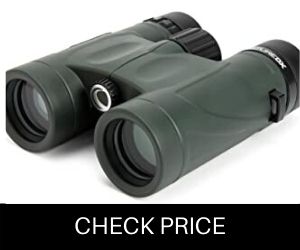 Not every binocular is suitable for everyone. For narrow pupil people, this could a great choice.
This binocular falls #1  on the best binocular under $100 list.
This binocular does have a little detent at the halfway mark. It can allow you to rest it against your eye sockets or nose bridge to keep it supported with a full view.
They have a broad view to capture but can retract for eyeglass wearers. The outer edge in this binocular can have some barrel distortion, focal and chromatic aberrations. Still, nothing to worry about because when you understand to use this binocular then it'll be easier for you.
Have to pay a lot more attention for edge-to-edge sharpness. The inner, almost 75% of view of the field is sharp, and this can be expected in this price range. There are people with a limited budget who try to find specific features while buying binoculars.
Some of them need excellent optics and some want to have something very compact that they can take wherever they want for travel purposes. Image clarity of this binocular is way more than excellent. The overall appearance looks very pleasant, well made, and feels like some business kind of binocular.
There are a lot more expensive options out there, but this is all you need under your buck with high end clear set. The strap is great and feels very comfortable around the neck. They don't install a strap so that you could install it as per your need.
It can show you great detail by picking up any available lights to illuminate your images. Excellent when viewing and following wild animals and birds. The clarity of this binocular is satisfying.
3) Bushnell H2O Waterproof/Fogproof Roof Prism Binocular
This is an inexpensive binocular but has expensive bino features. The body of this binocular is well-constructed, excellent finishing, and rugged that reflects the beauty and attractiveness of this binocular. They do have a BaK-4 prism which is a remarkable thing to have in a binocular.
Also, This is a waterproof and fog proof binocular. Being a roof prism binocular makes its durability so great. It is well collimated and focus can be quickly made quite sharply. There is a minimal color aberration but that's fine and tough to notice. You can use this binocular with or without glasses.
They feel a little bulky but, it's not that heavy to cause pain in your arm when holding for quite longer. Unlike other, Attaching rear and the front lens is quite easy in this binocular. Great clarity when looking through windows and performs well for wildlife watching, enjoying nature, in lakes, travel purpose, and many more.
A small rubber band securely connects the front caps and the caps near your eyes attach to the strap. Glasses of this binocular is great from where you get to see a lot brighter and breathtaking scenery. Very easy to focus on broader areas.
There is a beautiful ring at the end of the lens caps that stays on the glasses to protect it from getting lost. Best choice for hikers, bird lovers, forest visitors, safari, and whale watcher. Objects that stand 1000 yards away can be clearly seen with extensive details.
4) Wingspan Optics Voyager 10X42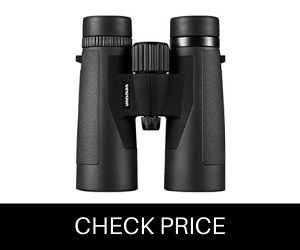 It's lovely the way this product feels in your hand. Finishing has done so precisely that the way it reflects is so overwhelming. This thing feels so comfortable and size is also perfect. This is not lighter, but it is not that heavier too that causes pain in your arm.
Nitrogen has purged in this binocular that makes it fog proof. Optics are excellent and the delivered images are very sharp and crisp. Very comfortable for people with or without glasses. Also, This comes with a nice feature that you can easily focus on each side separately and can be easily adjusted for glasses.
Very lightweight for hiking. It can survive for a longer period in rain. It has got an excellent quality strap and has a decent case. Its focus action is too smooth as well as it has got standard ¼" x 20 sockets for attaching a tripod bracket.
5) Nikon 8245 ACULON A211 8×42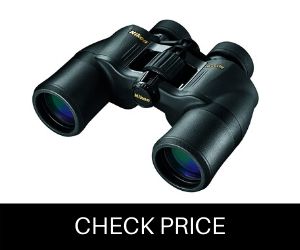 This is a general-purpose binocular and very comfortable to take on safari and hiking. Images are very clear, brighter, and sharper as compared to similar priced or specs binoculars. Also, it has a very nice 3D rendering feature. Being a full-size binocular it has a reasonable weight.
For avid birders, the performance of optics is so great. You get the perfect color, dimensions, and excellent eye-relief delivered by this pair of binoculars. The range provided by this binocular is pleasantly surprising. The things which are nearly impossible to see with our naked eyes are quickly and clearly visible through the lens of this pair of binocular.
This is the product for the value of money, and this binocular could be highly recommended for the average or moderate expectations, but it does not necessarily mean that it is not for the expert purpose. It is valuable for the expert as well, but it could be something more for those who have an average expectation with a budget.
This is very comfortable for your eyes. You can adjust the width of the binoculars to fit the width of the distances between your eyes. This is not suitable to take on a shooting range, but you can take it wherever things are challenging to see with our eye.
Maybe the idea of having a neck strap that holds the lens cap is a little odd, also it has a big lens caps that can not be attached to the lens caps, and that could be a reason why it falls off many times. This could be the only flaw that this binocular may have.
6) Bushnell Legacy WP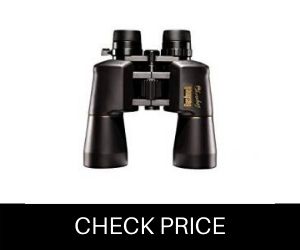 This is a very good looking binocular as well as it's packaging also looks great. It has excellent build quality. These pairs of binocular are a lot nicer than other pairs of Bushnell binocular in this price range. These have a rubber coating in it that feels very good and a lot comfortable.
They have twist-up eyecups, and they feel so lovely. Also, they have twice the size of the roof prism binocular, but its price doesn't double. These days grinding excellent optics are a lot easier but however, being fully multi-coated makes the real differences in pulling out the color.
Perfect contrast and color accuracy when viewed through this binocular. These binoculars can stand by resolving the powers of a couple of binocular that is twice the size along with the magnification. Have done by leaving old Bushnell binocular behind.
The performance of this binocular is much better maybe because it is fully multi-coated which on the other is a huge thing especially on this price. The optical performance is also very good of this binocular but another side feels a little heavy maybe because of this size. Sometimes you may get caught in the rain, so in that situation, this pair can save you from being damage.
Sometime you may face Blackout in this binocular but not all the time, and this is the problem that most of the binocular does have nowadays. When you're looking through this binocular then if you turn your eyes to the far left or far right then maybe about eighty percent of the image went dark.
If you're wearing glasses then in case if you look down then you may face Blackout which doesn't seem to be a much problem. It's much of a less problem with or without glasses. You may face a little tight wheel when trying to turn up, but this can be loose when time passes and when it comes in regular use.
Diopter wheel can be sometimes hard to change, but this thing can be useful because this prevents your binocular from accidental damages. There are some color fringing in this binocular which is very reasonably controlled, mostly yellow and some slight purple fringing.
If you're wearing glasses and if you have light sources at your side or behind you. Such as sun then you may see one or more small multi-colored circles at the bottom of the eyepieces. This could not be a big issue as they're small and not in the central viewing area. Also, this is the eyepiece reflection, and you won't face this problem without wearing glasses.
7)
Celestron Outland X 10×42 Binoculars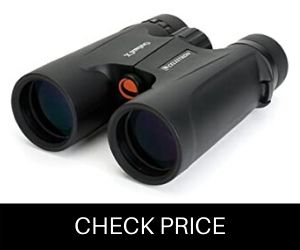 This is an ideal binocular for the all-rounder. Its performance and the crispier view are way more than expected. Also, the exceptional performance of its optics has been possible with the combination of premium Bak 4 prism and multi-coated lens.
The neck strap is very comfortable to carry around on the travel. Very tough to lose this binocular because objective lens caps and covers are semi-attached that protect it from getting lost. Also, you get a rain guard in the eyepiece that protects it from rain.
To maintain the portability and durability of this binocular you get a beautiful carrying case. Along with this, you get a lens cloth to maintain the cleanliness and clarity of the lens. Requirements for outdoor enthusiasts have been taken care of. It has got an anti-slip gripping surface for the exceptional gripping experience.
In addition, For the highest resolution and contrast, they have added multi-coated optics. However, Bak-4 Prism has significantly improved the sharpness and has enhanced the color fidelity for an exceptional viewing experience. This binocular has also got the protected rubber coated in its exterior to handle the rough and tough situations.
8) Celestron 71008 SkyMaster 25×70
One of the best and yet affordable choices for astronomical and long-distance terrestrial viewing. This binocular comes with 25X magnification which is very huge. Being heavily magnified binocular also makes it unstable and a stand or tripod is recommended to maintain stability when viewing.
70mm of the objective lens can show you a wider field of view almost fitting within the lens. Highly recommended for and in dim light viewing. Excess amount of light transmission has made delivered with the help of multi-coated optics and Bak-4 prism.
Also, this is a water resistance binocular. Celestial objects like the moon can totally fit the frame for the outstanding breathtaking view. Fourth Galilean moons of Jupiter can surprisingly be seen with this pair of binocular. This could be silly to expect to see celestial objects like we used to see in our science books. They perfectly do their jobs they are intended to do.
They might be a little heavy as compared to other pairs of binocular but they are just perfect. Easy to hold and manage. Built quality has also very expensive look but its not expensive at all. It is 8 inches wide and 10.4 inches long. The depth of focus could be disappointing for you.
The focus is quite smoother but has a few lags.
So the lists on best binoculars under $100 ends here. Which of the following do you think is worth the price? Let me know by leaving a comment below.
Read More articles on:
7 Best Auto Focus Binoculars | Reviews & Buying Guide
7 Best Binoculars For Whale Watching
What Do The Numbers On Binoculars Mean?